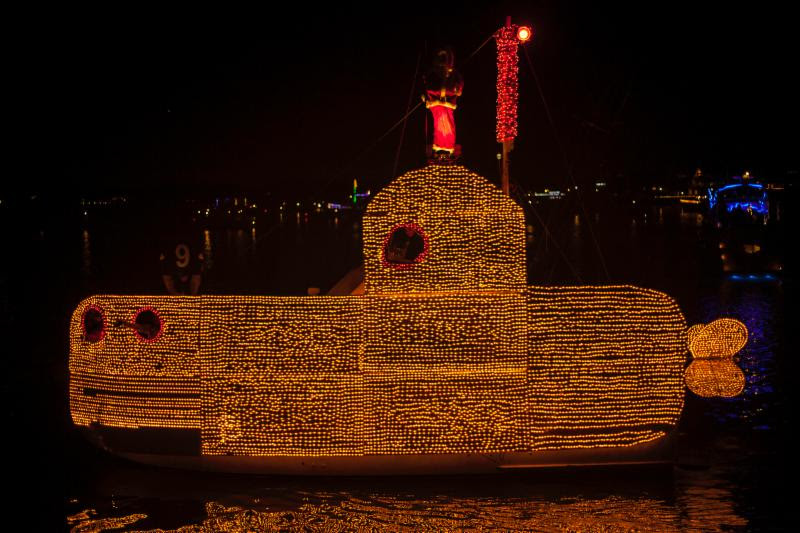 Crowd favorite - "Yellow Submarine" - photo by Brad Austin Butler
WRIGHTSVILLE BEACH, NC - Named one of the Top 20 Events by the Southeast Tourism Society in 2013, the North Carolina Holiday Flotilla celebrated its 31-year anniversary in Wrightsville Beach over Thanksgiving weekend.
An estimated 50,000 visitors, gathering on water and land, cheered on the parade of yachts and motorboats, each decorated with a holiday theme and thousands of glittering lights. The flotilla followed a 4-mile route through Motts Channel, Banks Channel and the Intracoastal Waterway, passing the judges' viewing stand at Blockade Runner Beach Resort.
A panel of judges, including John Boy, of John Boy and Billy's Big Show, carefully selected the winners, all competing for $10,500 in cash prizes plus holiday bragging rights. Text voting continued this year, with Crowd Favorite and People's Choice Awards determined by spectators.
The evening ended with a stunning 21-minute, 4,000-round fireworks display by Zambelli International, illuminating the night sky, and showering the waterway with sound and color.
Fall weather conditions were favorable with mild wind, clear sky, and fall temperature in the upper 40s.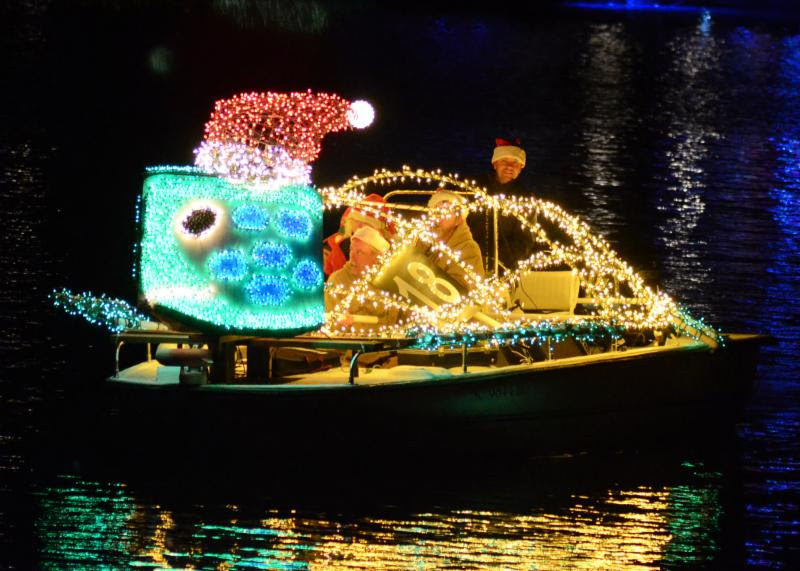 Best Overall - "Good Tiding to You, Turtle" - photo by Beth Watson Hedgepeth
Category: Best Overall
Captain: Mike Spivey
Vessel: Angler Management
Theme: Good Tidings to You, Turtle
Category: Peoples Choice
Captain: Ava and Scott Werstlein
Vessel: No Name
Theme: Furtilla
Category: Crowd Favorite
Captain: Skip Wilson
Vessel: The Bottom Line
Theme: Yellow Submarine
Category: Best Powerboat 31ft. and over
Captain: Bob Bleecker
Vessel: J&B
Theme: Salt Life Santa
Category: Best Powerboat 23ft. - 31ft.
Captain: Eric Burns
Vessel: Chuck Norris
Theme: Sleigh Surfing
Category: Best Powerboat 22ft. and under
Captain: Brent Jernigan
Vessel: Craig Cat
Theme: Christmas Hummingbird
Category: Best Costumes & Crew Spirit
Captain: Castle Branch
Vessel: The Jolly Roger
Theme: Peter Pan
Click here for list of winners and photos
NC Holiday Flotilla Fireworks - photo by Brad Austin Butler
This post is written by
Sarah Coulsey
. She is a Wife, and Mother of two boys living in New England. This post may contain affiliate links.